Some days all I do is bust common content marketing myths. I know it can be overwhelming when you have to sift through all the content marketing tips and advice on the internet. There's so much rubbish. How do you know which content advice is right? It can be tricky picking the bad stuff from the good, even for me.
Today, I want to remove your storytelling obstacles and demystify the digital space a little. Below are seven content marketing myths that most of my clients have asked me. Don't be embarrassed if you you believe one of these myths. When social media first came onto the scene I was sure email marketing would die or change radically but turns out I was wrong. And now I've invested in it more than I have social media.
What I know for certain is, content marketing myths will remain until we accept that there isn't a quick and easy way to use content to achieve our business goals.
Maybe content marketing myths are a good thing? They help differentiate the salesy brands from those that are trying to make the world a better place, one relationship at a time.
Can't decide if you've fallen victim to a content marketing myth? Send me an email. I'd be happy to set the story straight for you.
You need to be on every social media platform
Having poorly setup and rarely used social media accounts is worse than having no social media accounts. Just because every content marketer is saying need to be on Periscope and Blab doesn't mean you have to. If your audience isn't using it and it doesn't fit in with your current content marketing strategy then give it a miss. Do you research first of course but don't be fooled by the latest tool, gadget or app.
Each social media platform attracts a different audience and allows you to do different things. Understanding the benefits and functionality will help you make an informed decision.
Here are some general rules to follow:
If you aren't use images in your marketing, give Pinterest a miss.
If you're not news focused or interested in connecting to industry experts, insiders and influencers don't use Twitter.
Unless you know how to use target paid ads and drive traffic back to your website skip Facebook.
Unless your product can be presented visually or you can show interesting 'behind the scenes' content ignore Instagram.
Email marketing is dead
Contrary to what you may have heard, email marketing remains a highly effective strategy and a core component of content marketing. It's highly adaptive and flexible and it can be used to promote your business in a variety of ways.
Email is also super cheap, allows you to reach a lot of people fast, is easy to measure and can be integrated with your social media marketing.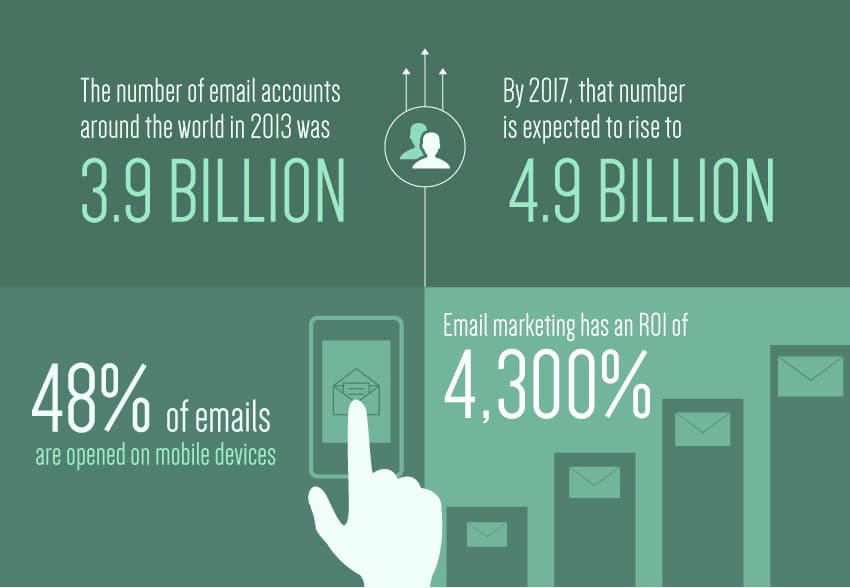 Maximise your email marketing by using these tips:
Be creative
Make it personal
Play by the rules – don't SPAM
Include social media sharing buttons
Use engaging subject lines – no salesy stuff please!
Make sure your email is mobile friendly
Send at the right time – weekends are best
Include a call to action
You should only post during the 'best posting times' on social media
The belief that posting on a specific day and time will get you more engagement is one of the biggest content marketing myths.
The reason why these 'best posting times' have been so popular is because it is believed that sharing content when the most people are online will lead to better results (click-through, shares, and retweets). Unfortunately this isn't always the case. People are more complex than that.
While it's true, there are certain days and times when the most people are online, you need to remember what works for one page or community will not necessarily work for you.
Yes, there will be days when your fans are more active but this activity doesn't always fall on the same day at the same time.
The best way to discover the online habits of your fans is to track when they are online via your page Insights.
There you can find the following information to help you boost engagement:
When your fans are online
Which post types (status, photo or links) work best
Reach and engagement numbers for your posts
Don't forget to pay attention to where your community is based. Just because you're in Australia doesn't mean your community is based here. You could have a large portion based in the U.S or Thailand. If this is the case you need to post based on their time zone.
Some brands have also found that posting in quieter times when there is less competition has been the beneficial. Use the 'best posting times' as a guide but don't ignore your community insights.
Visual content works best
Visual content is now an essential part of a digital marketing strategy thanks to the infographic peak in 2012 and more recently the increase of interactive content formats like Slide Share.
Marketers are creating visual content to increase brand awareness, SEO rankings and website traffic. However, these should be secondary benefits, not the primary motivators for using visual content.
What most brands don't realise is visual content when paired with text based content gives the best results. On their own, text and graphics are imperfect. There are only so many word combinations that allow deep analysis of concepts. When conveying abstract and complex ideas graphics aren't effective. By combining text and graphics, marketers can take advantage of the strengths of each medium.
Here are some tips for creating content that will help your customers:
Use coloured visuals and text to help your customer read more easily and get a basic understanding of your information in less than 1/10 of a second
Give product directions using both text and visuals to transcend cultural differences and language barriers
Combine text and visuals to encourage the eye to compare different pieces of data and find connections between them
You don't need a Word of Mouth Marketing strategy
It's not enough to say people will find out about my new product from others. If you don't give people a reason to talk they won't.
Today, 92 per cent of customers believe recommendations from friends and family over traditional advertising. And brands understand the significance of word of mouth marketing yet, only 6 per cent say they have mastered it.
This is because brands have been focusing on collecting social media fans instead of connecting with them. WOMM is an integral part of your content marketing strategy. It requires work, foresight and creativity.
Maximise your Word of Mouth Marketing Strategy using these tips:
Be interesting – No one talks if something is boring
Make it easy to share your message
Make people happy – happy customers are your greatest advertisers.
Earn trust and respect
You have to gate all your content
There's a time and a place to gate your content but it's up to you to know where to draw that line for your brand. You can determine which content assets to gate or leave un-gated based on their purpose. When you publish content – a blog post, case study, white paper, e-book, webinar, or video – what are you hoping to achieve?
If you value traffic, SEO ranking and inbound links then you're better off not gating your premium content. But if you need regular leads you may want to consider gating your content at the expense of your traffic.
You should be creating content to help your customer navigate down your sales funnel. Some brands are putting the wrong content behind walls and are preventing sales. Generally, content
assets associated with the first and last stage of the buying cycle – 'Awareness' and 'Purchase' – can be gated if the content marketing goal is to generate a consistent volume of leads. If not these can remain gate free.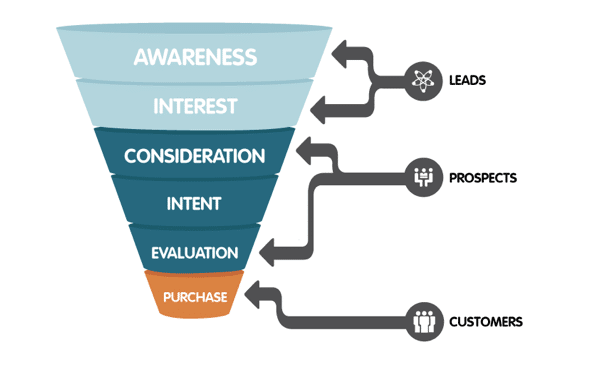 Here are some tips to help you decide what content to gate and when:
Content assets in the 'Awareness' stage like a blog should be educational and kept gate free but long-form content like an e-book can be placed behind a gate
Content assets created for the 'Evaluation' stage, which discuss your product or service like FAQs, should never be placed behind a gate
Content assets like a free trial in the 'Purchase' stage can sit behind a wall. This is because accessing personalised or detail information requires and exchange of information – like an email address
Long-form doesn't work on the web
For a long time the suggested length of a blog post was 500 words. It was the winning formula, until it wasn't. Now, Google suggests that posts should be 1500 words or more.
Generally speaking, you should create long-form content because it will get you more of what you want: more online visibility (social shares, links), more proof of your authority and industry expertise, and more material for altruistic community building and engagement.
This doesn't mean creating long-form content for the sake of it though. This is bad practice and will be detrimental to your brand. There are pros and cons for creating long-form and short-form content. So how do you know which type of content you should create more of? In most cases producing a mixture of short and long form content is a safe bet.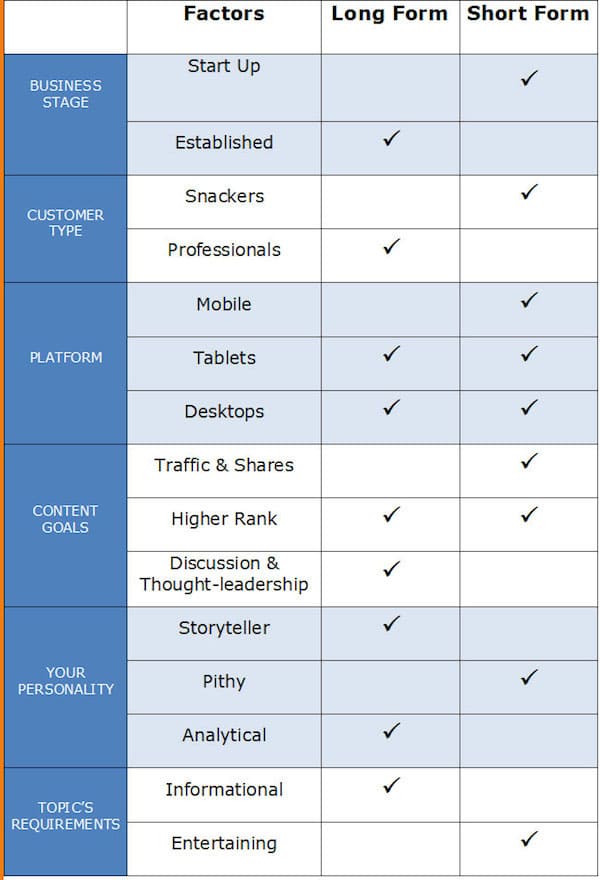 Here are some questions that will help you decide:
What stage of your business are you at?
What's your personality and style?
What is the goal of your content?
What platform will it be read on?
Who is the end consumer?
What are the topic's requirements?
What content marketing myths have you been told? Share them in the comment section to help your fellow readers.
Featured imaged from Google. Email statistics from Business 2 Community. Sales funnel from Newsmodo and pros and cons content table from Search Engine Watch.