One of the main reasons I decided to run my own business was so I could get my day back. I wanted control over what tasks I did, who I spoke to and where I went.
I wanted my freedom!
But in reality I had no idea what freedom would look like for me day-to-day.
I knew what frustrated me about conventional 9-5, Monday to Friday desk jobs, yet I didn't know what made me more productive, happy and satisfied in my work.
I wasn't alone. Most of us don't actually know what work environments we like or behavioural patterns we have because we've been conditioned to perform under very unnatural conditions.
So freedom to do whatever you want after years of rules and procedures can be scary at first, and is one of the reasons some freelancers return to full-time employment.
This is why planning an ideal work day is one thing freelancers need to do.
I decided to find out my ideal work day using a very non-scientific model.
For two weeks I recorded every task I did – work and non-work related. After completing each task I drew a face next to it to represent how I felt doing it.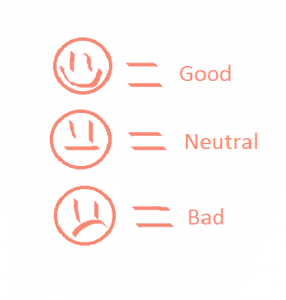 After the two weeks I reviewed my results. What I found wasn't overly surprising upon reflection. The days I felt the most productive and satisfied were the ones that had a mixture of activities – creative and methodical, physical and social, and personal and work focused. What this told me was I needed variety. I also wanted to feel like I was moving forward on multiple projects at once.
But what I did find surprising was if I did an activity I loved – say writing – for two full consecutive days, by the third day I started to dread it. I began to hate it as much as I hated doing my finances. This told me that I needed spend time replenishing my creatively. I also knew I had to spend time building my knowledge in the art form as much as I spent practising it.
My ideal work day looks something like this:
I broke my day into chunks and allocated a task to each chunk.
6.00am – write
7.00am – read the news + social media
7.30am – breakfast
9.00am – gym
10.30am – emails
11.00am – first round of work
1.30pm – lunch
2.00pm – creative break OR personal learning
3.00pm – emails
3.30pm – second round of work
6.00pm – dinner
7.00pm – social time + social media
8.00pm – third round of work
9.30pm – reading
I had to accept I couldn't get rid of every neutral task but I could spread them out so I didn't have to do them back-to-back. I also tried to minimise my bad tasks. If I didn't enjoy completing a task for a client then I removed it from my services.
If I rated an essential business task bad because I found it hard or confusing then I invested in training. I also made sure I was doing a task that made me feel good about myself and my business every day.
When business was quiet or I was having one of those what the hell am I doing days, I'd get out my ideal day work plan and follow it. It gave me structure, purpose and clarity when I was overwhelmed by freedom.
[Tweet "How to plan your ideal work day."]
Take back your work day.
The reason why I used emotions to plan my work day and not output or income was because I wanted to create my own rules.
Many freelancers don't embrace the freedom this career path can bring. They get scared and bring old ways of thinking into their new lives. Then wonder why they're still exhausted, frustrated, chasing figures and hating life.
People aren't made to be factory workers. So why continue being one when you don't have to?
When my freelance and creative clients ask me how I managed to plan my ideal work day, I tell them exactly what I've just told you. My advice to you is ditch the how-to-books, productivity apps and financial planners.
Get back to the basics. Discover what gets you out of bed each morning. And what you avoid doing at all costs. Learn how you work.
It's about you taking back your day.
Once you know how to plan your ideal work day, you'll be ready to take advantage of the freelancer lifestyle.
What does your ideal work day look like? What challenges have you had planning your day?
Featured image from Google.