Hire me to speak at your next event
Do you want a bold, passionate speaker who can inspire your audience into action? Yeah you do.
Book Now!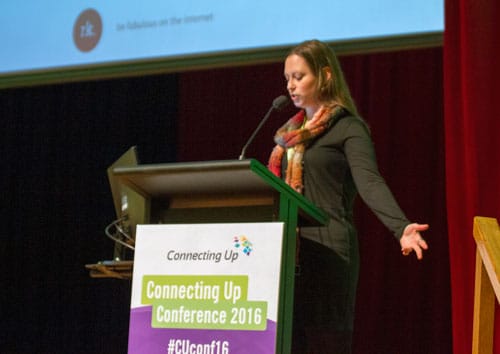 I'm a writer and communications consultant. And I help make people and businesses fabulous on the internet.
I remove obstacles and demystify the online space. And I teach storytelling techniques and writing best practices.
I do all this so my attendees can write content people actually read, build online businesses that complement their lifestyle, and look fabulous while doing it.
I also love speaking to socially minded people about ethical travel and volunteering overseas because travelling to 40 countries has taught me a lot about myself, people, and the crazy, beautiful world we live in. When we understand other cultures and appreciate natural wonders, we are more likely to work towards a just and equal world.
Since sharing my story about being homeless at 17, I've been inundated with questions, calls and support. Nothing makes me happier than removing the negative stereotypes around homelessness, addiction and mental illness.
I'm available for half-day and full day workshops, keynotes, retreats, breakout sessions, and classes. And while I've listed four of my most popular speaking topics below, I'm also happy to design a custom talk to suit your audience.
How to write copy that people want to read
Whether you are writing for your website, newsletters, brochures, blogs and everything in between – this class will provide you with an overview on writing searchable, bold and hardworking content that makes your audience stop and take notice!
You'll learn to:
Understand what and why you are writing,
Know your audience,
Discover your readers pain points,
Edit for grammar, punctuation & SEO, and
Write a read-me-now headline.
I attended Rachel's copywriting course because I wanted a basic introduction to copywriting and I knew of her reputation and expertise. Rachel has a clear and concise teaching style, and I feel like I learnt a lot of the basics, in my case working for NGOs, which is what I want to do, in a short amount of time. She was also happy to answer any and all of my questions. I would definitely attend one of Rachel's courses again!
Amy Fallon
How to create website content that attracts your ideal supporter
How can non-for-profits, social entrepreneurs, and foundations write website content that attracts supporters, raises more funds, and shares who they are and what they do?
Join me as I look at what is good website content and why, and share my simple and practical tips to writing content that is engaging, accessible, visual, and shareable.
You'll leave the class feeling more confident about writing for the web, and better equipt to use your website content to achieve your organisational goals.
You'll learn how to:
Choose what content to share,
Structure content on a webpage,
Write engaging headlines,
Create a call to action, and
Use multimedia content.
Transform company culture through storytelling
Is your company going through a restructure? Are you managing the rollout of your digital transformation strategy? Does your team struggle to communicate with other business units? When used correctly, storytelling has the power to engage and influence internal stakeholders.
I'll use a combination of videos, articles, real-life examples and tailored exercises to walk you through each module. Your team will leave this workshop with a clear understanding of how to put their storytelling knowledge into practice and find practical and strategic communication solutions for your business.
You'll learn:
The five essential elements of a story,
Why storytelling is important in the workplace,
How to identify and interpret your 'inside-stories',
How to craft stories that support workplace culture and change,
How to overcome common barriers and resistance to change, and
How to share organisational stories throughout the workplace.
Volunteer ethically: Don't be a voluntourist
Thinking of volunteering? Overwhelmed by the amount of information on volunteering? Want to learn what you have to offer? Don't want to be a voluntourist? Everyone can benefit from volunteering when it's done right.
But there's a lot of information, companies and opinions out there that make this topic confusing and hard to navigate. This class will teach you how to volunteer ethically and avoid the voluntourism traps.
You'll learn:
Your motivations for volunteering,
Your transferable skills and experience,
Local vs overseas volunteering,
How to vet a volunteer company, and
How to avoid the voluntourism traps.
Rachel is a thoughtful and engaging presenter. She brings her diverse experience and a passion for international development and volunteering to the table, while supporting the attendees to think critically about their motivations for overseas volunteering and how to take a considered and ethical approach to such activities. While she might leave you with more questions than answers, don't be discouraged! This is a vitally important topic and something requiring self-analysis and deep thought. This course is a great first step for anyone wanting to volunteer overseas.
Lexi Randall-L'Estrange
Don't be a dick overseas: Not your average guide
Nothing beats the feeling of exploring a new city. The people, sights, smells and sounds are intoxicating. So much so that we sometimes get ahead of ourselves and commit a cultural faux pas. Don't worry, we've all been there. You can't learn everything in a guidebook, which is why this class will teach you how to travel ethically and immerse yourself in different cultures respectively.
Thinking of travelling? Want to reduce your ecological footprint? Want to have meaningful cultural exchanges with locals? Don't want to be one of 'those' travellers? If you find yourself nodding yes, then this class is for you.
You'll learn and discuss:
Navigating cultural norms,
How to minimise your impact on the environment,
Ethics surrounding photographing locals,
How to barter in a respectful way, and
Should you give money to beggars?
So what are you waiting for?
If you want me to speak at your next event please get in early to avoid disappointment. (I'm one of those 'people' that books stuff waaaaay in advance!)