Your step-by-step guide to crafting a content marketing strategy that
positions you as an expert

, has your

dream clients booking your services

AND

still feels authentic to you. 
Create 
CONTENT 

with


CONFIDENCE
Your step-by-step process for
positioning yourself as an expert

,

booking your dream clients

and

building an authentic brand online

.
You wake up feeling uninspired but remember you haven't shared something on your socials for weeks. So you spend hours scrolling Reels for ideas only to repost a Beyoncé quote.
You're liking posts, replying to people's stories with emojis and scrolling through hashtags. But even after showing up, your business, followers and engagement are still not growing.
You're constantly checking to see if your content has any likes, shares, and opens. But your content never gets you sales enquiries leaving you deflated and frustrated.
You find yourself thinking that people don't care what you have to say, that you have nothing new to add and this whole content is queen stuff isn't true for you.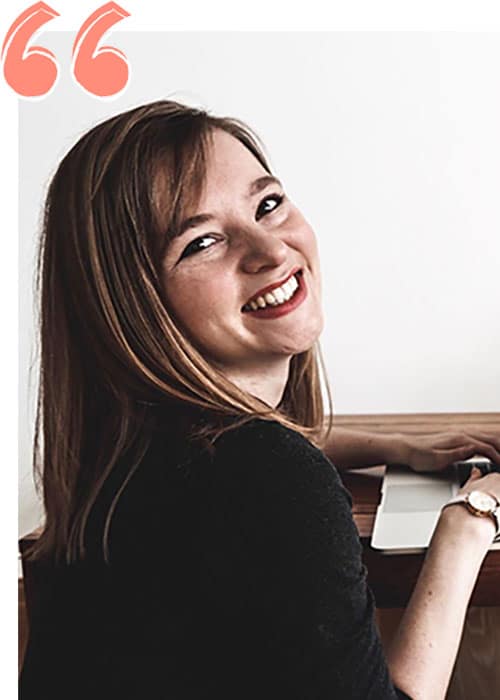 Testimonial -
"
This is such a great course and couldn't be more aptly named!
I can honestly say I've never been so clear on what I'm trying to achieve.
And because of that, I've made massive progress with my business goals and content marketing strategy in the last 7 days.
Doing the groundwork has made coming up with content ideas easier, and the course has helped me to refine my message massively. Now when I go to write anything, I have 2-3 key messages in my head that keep me focused."
—Jennifer Lynn
One
Instagram

post has the

POWER

to change your

LIFE

.
I know this is a bold statement, but I stand by it because I've seen it happen again and again for my clients.
Yet, content is the first thing to fall off our to-do lists. Especially this past year.
The resounding message I'm hearing from you is that you're uninspired, unmotivated and exhausted by your business right now.
Know that I see and hear you.
But what I know to be true is that stories bring joy, inspiration and connection to our lives. They are the one thing we all crave even in tough times.
And what your community needs right now is you. Your experiences. Your expertise. Your vision. 
You're doing your dream clients, your business and yourself a disservice by not showing your face, sharing a story and supporting others to have a positive impact on the world. 
If you're waiting for a sign that it's YOUR time to be seen and heard, this is it.
Take this first step and the rest – being booked out months in advance, invited to speak on podcasts, and building a community of like minded people – will follow.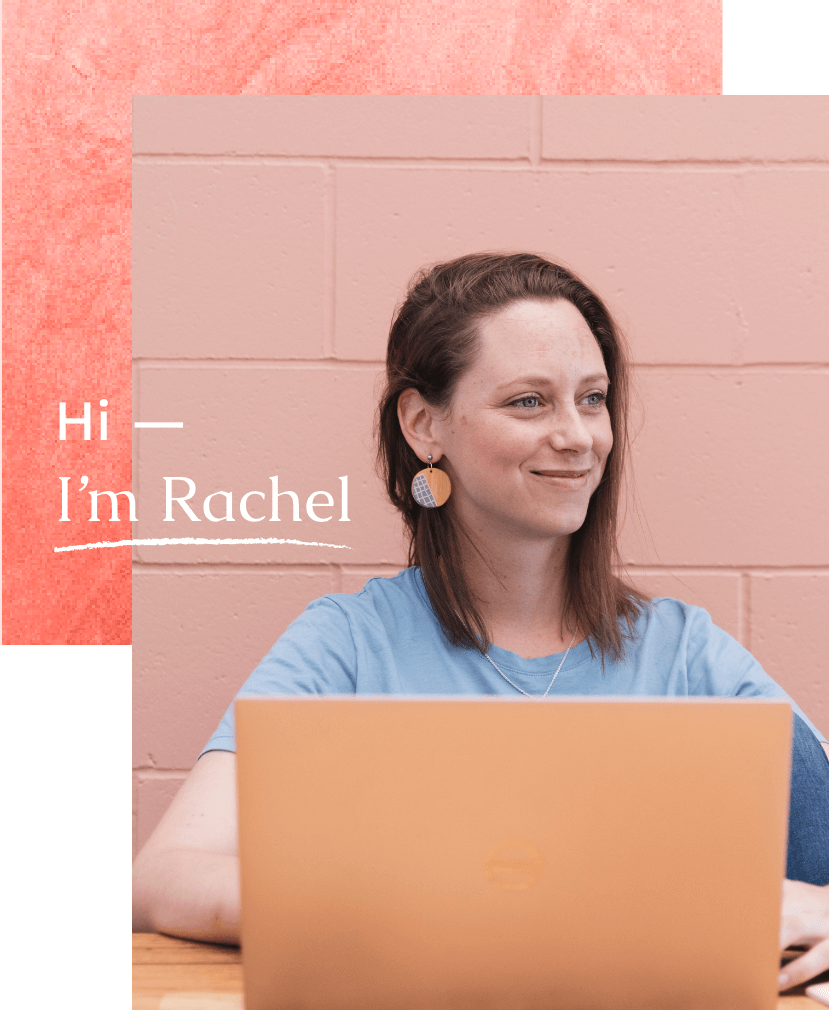 And I totally get it. The first four years in business, I created all my content on the fly. I was so busy juggling client projects and looking for work; I didn't have time to sit down and plan my content.
When I did finally sit down to write, I'd either develop the worst creative block and end up writing a post about my morning coffee OR I'd share a personal experience and spend the rest of the day imagining all the terrible things people were saying about me.
Neither strategy proved successful. All it did was confirm my belief that I had nothing relevant to say, and my dream clients weren't interested in hearing from me. Of course, none of this was true.
Now 10 years in, I'm working with my dream clients, my client roster is booked months in advance, I know what content I'm sharing each day thanks to my 90-day content plan, and people are sharing, liking and commenting on my content on the daily. It still amazes me that I can share one Instagram post and receive five sales enquiries and email newsletter signups in the double digits.
But this only became possible because I made time to get clear on what I wanted to share, learned what content resonated with my dream clients, and made a content marketing game plan that was right for my business.
Whether your biggest struggle right now is showing up, knowing what content your clients are craving, finding time to create content, or all three Create Content with Confidence can help.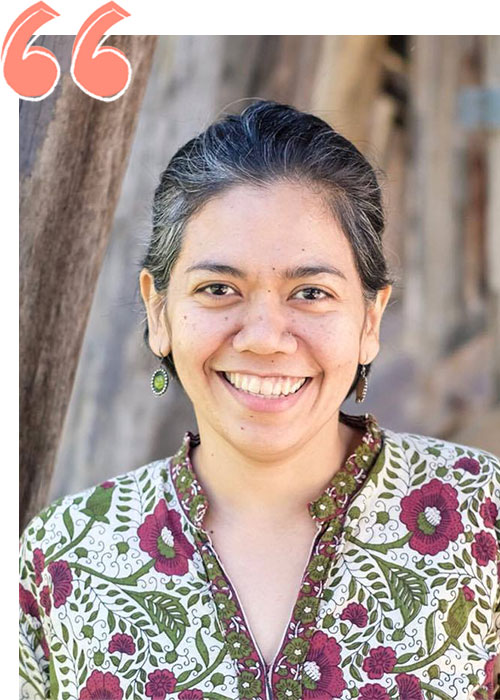 Testimonial -
"Rachel helped me to understand how branding carries over into content planning for social media, my website, and newsletter – it's so simple and doable!
I now feel more confident in choosing what I want my audience to know about me and what I offer."
—Anna Manuel
You knew the types of content you needed to create so your dream clients would choose to work with you.
You felt confident to show up as you are because you knew your community valued your experiences and expertise.
You knew how to batch and schedule 90-days' worth of posts in one day (for real) so you could be consistent with your content.
Coming up with content ideas was easy, quick and fun because you knew how to build a memorable brand online.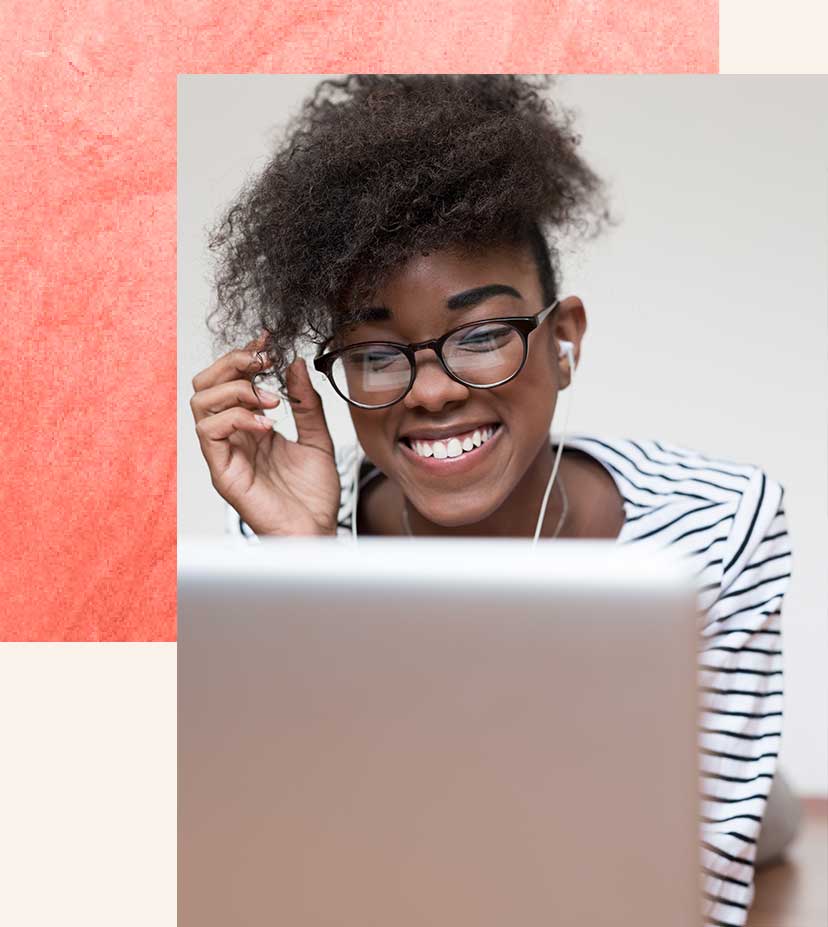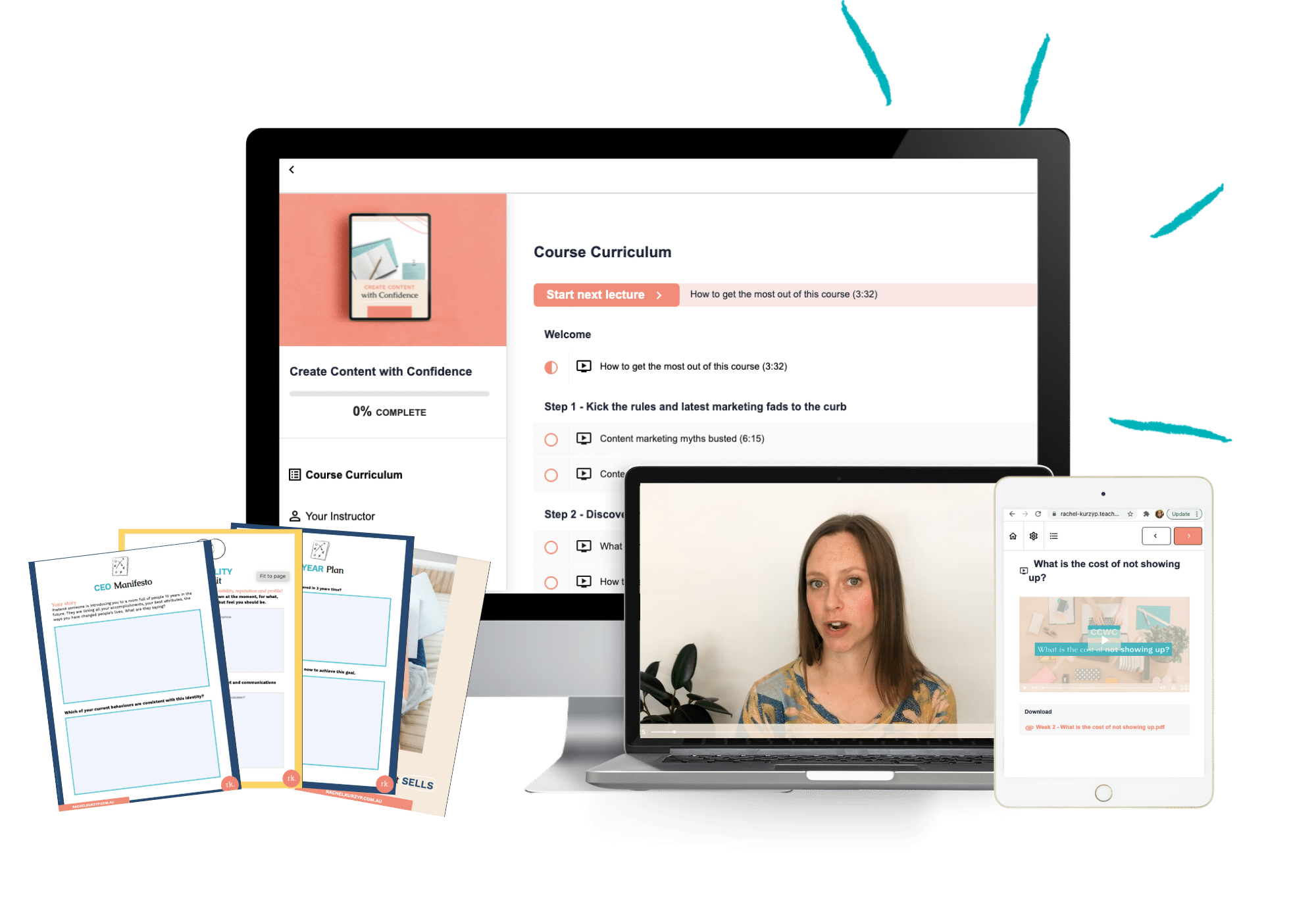 Create Content with Confidence —
You'll receive video lessons, digital workbooks, and fill-in-the-blank templates so you can work on your branding, content strategy and marketing plan. Videos are between 5-10 minutes long, so you'll be able to fit them in-between family life and existing client commitments.
Each week you'll watch videos that take you through the step-by-step process of creating content. Then you'll take what you've learned and apply it to your business so you can start seeing results immediately.
The lessons build on each other so at the end of this course you'll be able to create content you know is on-brand, resonates with your dream clients, and positions you as an expert in your niche.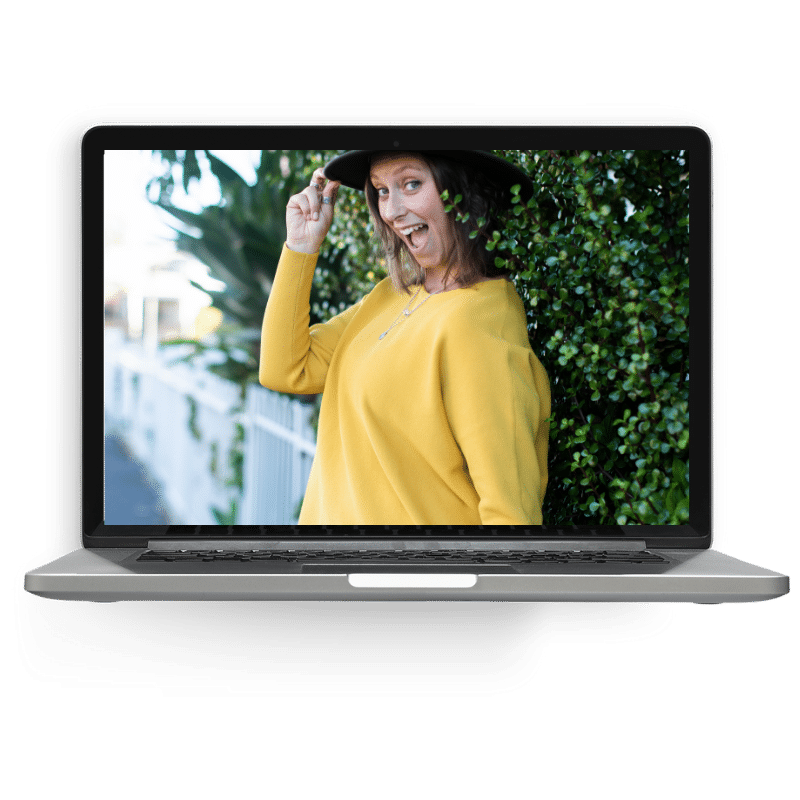 Kick the RULES and latest marketing fads to the curb and implement strategies that work for your business. There's a difference between content creation and content marketing which is why advice like "give, give, give, sell" may not be working for you.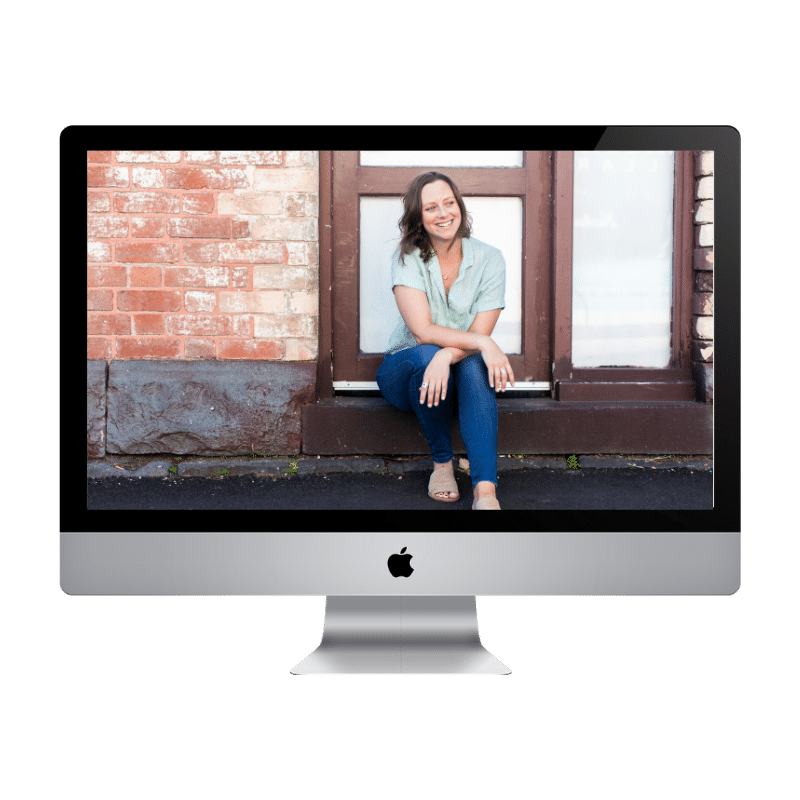 Discover your unique point of view and leadership style so you can position yourself as an EXPERT in your niche. You don't need to speak fast or wear tweed to be seen, heard and serve your community.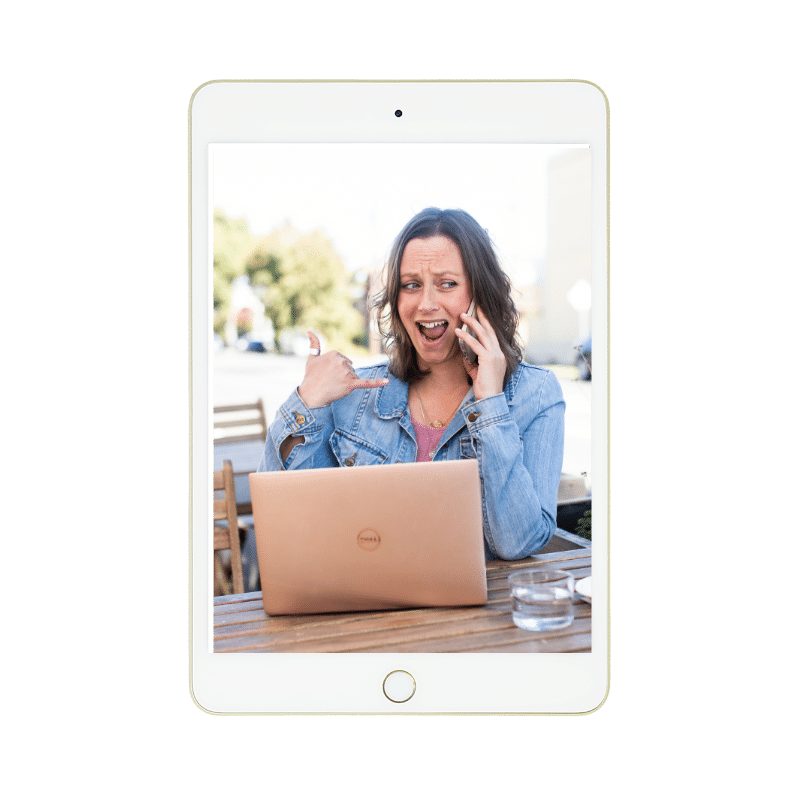 Get clear on what it is YOU want to say so your business content reflects your values, language and style. Being clear on your why and purpose will support you to show up confidently from a place of knowing.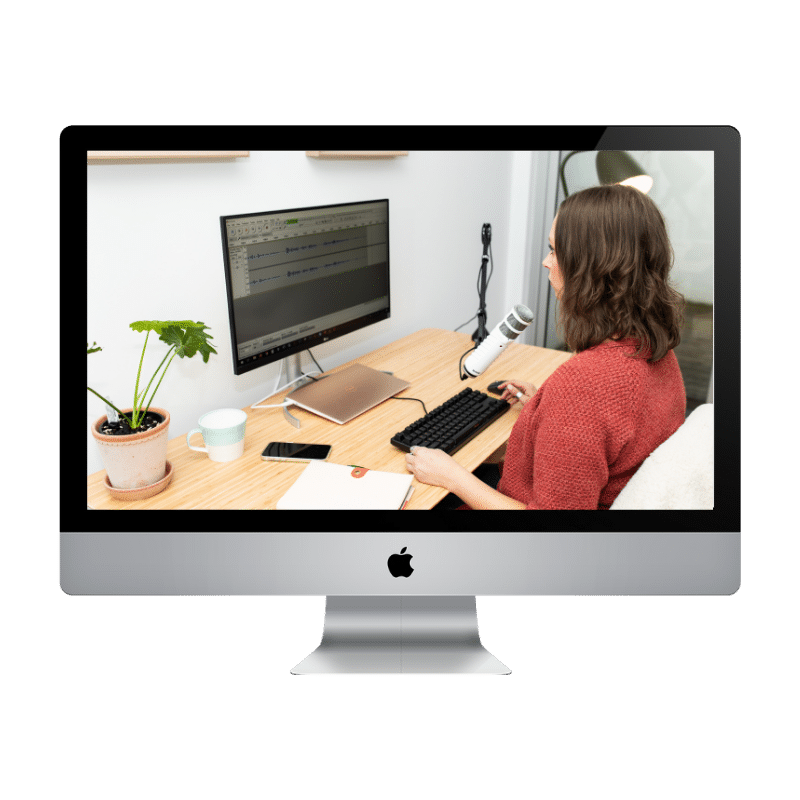 Learn what content resonates with your DREAM clients and focus your time and energy into creating content they will love. Becoming known, liked and trusted in your community is key to building a successful business.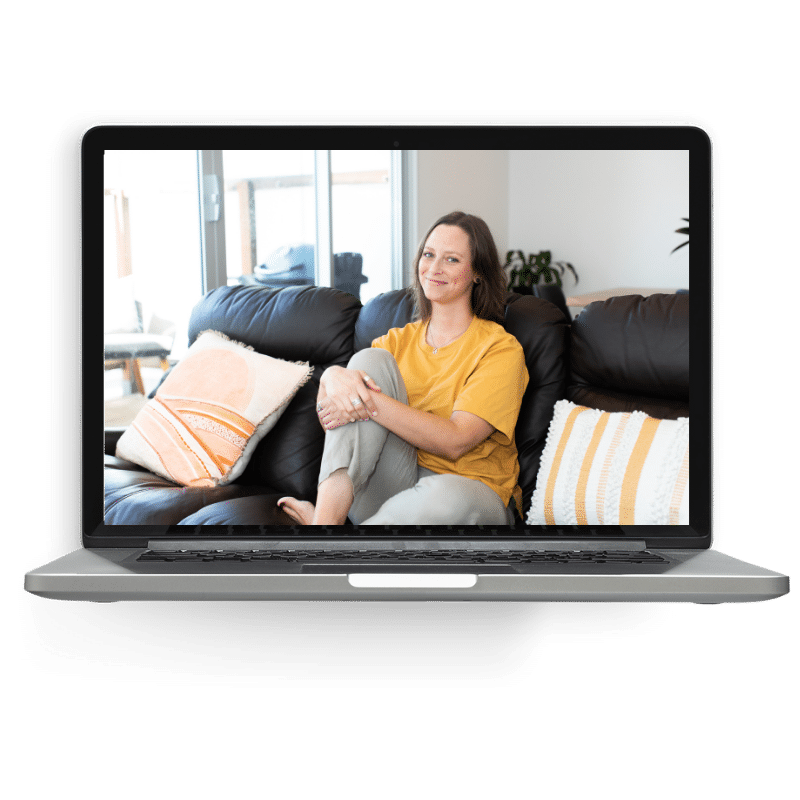 Make a content game plan that is RIGHT for your business, so you know when, how and where to show up. Because it's time you got off the content creation hamster wheel that's keeping you in a cycle of 'busy.'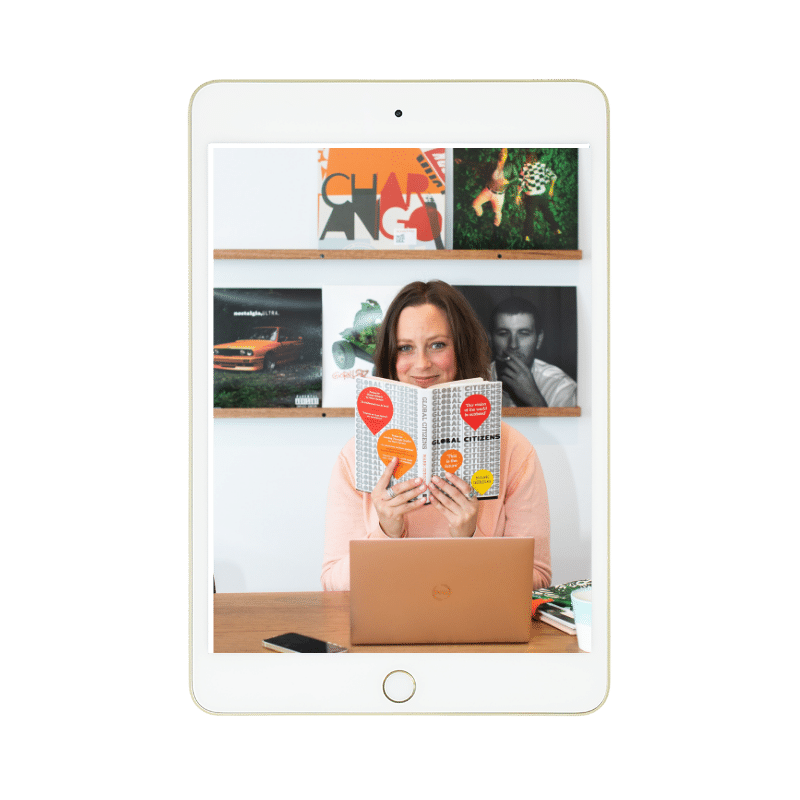 Learn how to AUTOMATE your content plan so you can post consistently. Allowing you to focus on building transformative services for your clients and income-generating activities.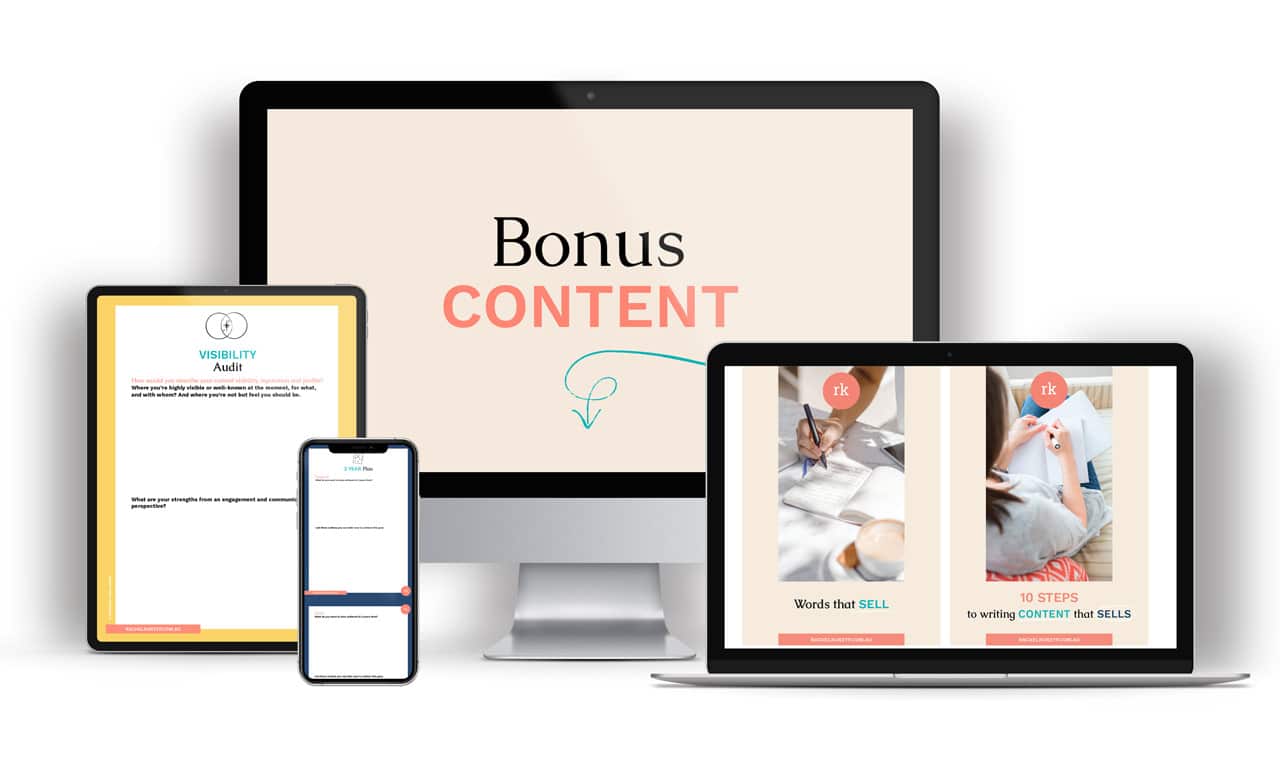 If you've been feeling overwhelmed and unsure when it comes to creating content in your business, that's all about to change.
This comprehensive system is designed to help you start crafting content that converts followers into clients with confidence and ease.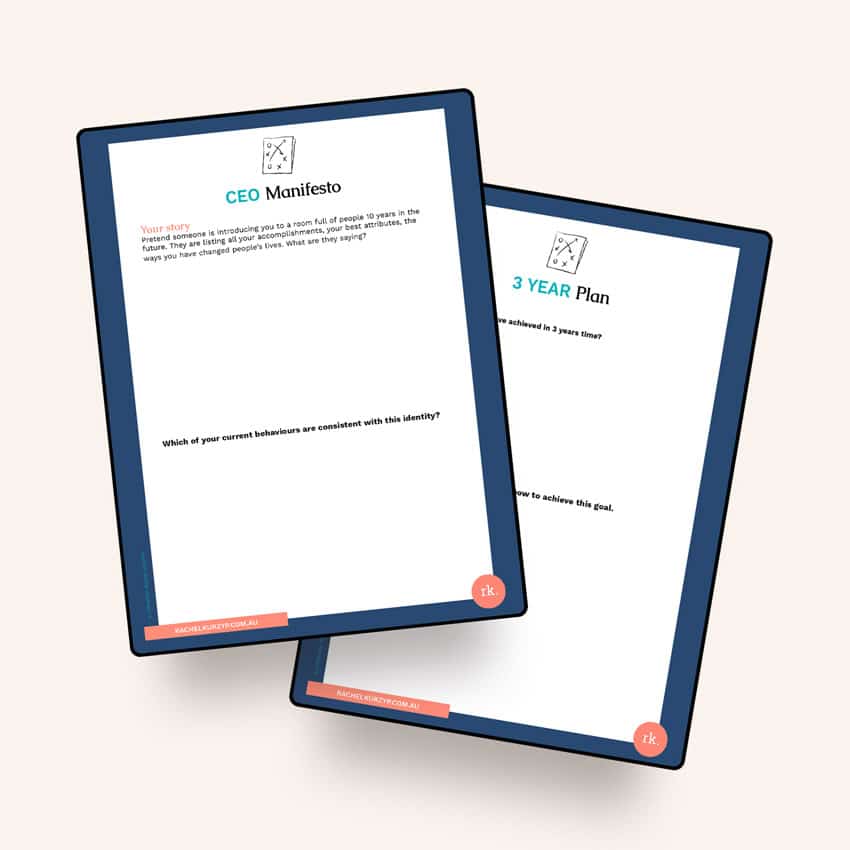 MAKE A GAME PLAN WORKBOOKS
My CEO Manifesto and 3-Year-Life Plan workbooks will guide you through the process of creating a business strategy that supports your big dreams and goals. Getting your vision down in words nearly doubles the likelihood of you achieving it.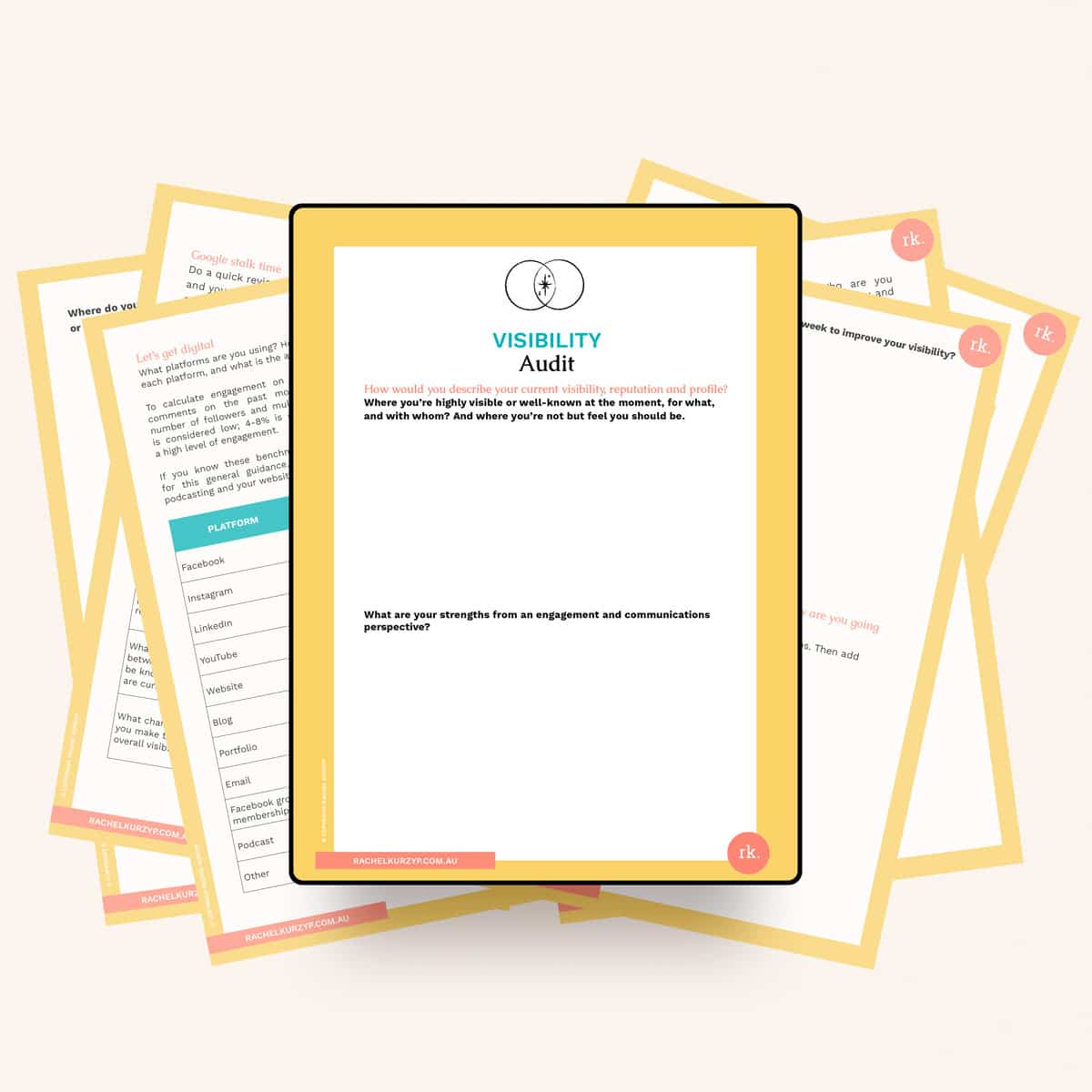 CREATE YOUR VISIBILITY STRATEGY WORKBOOK
Now sure what content is currently working well in your business? Can't decide if you should be a guest on podcasts or start a YouTube channel? My Visibility Strategy will help you choose where to focus your time, energy and creativity.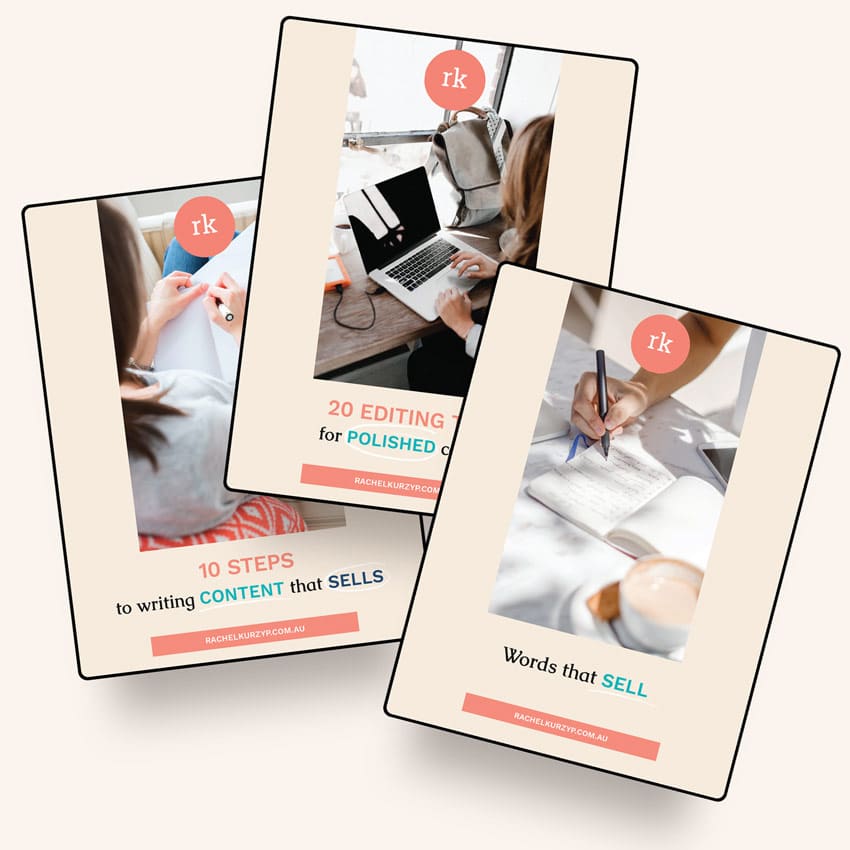 WRITE COPY THAT SELLS GUIDES
No one is born a great copywriter. It is a skill that can be developed. My copywriting guides will teach you the headline formulas, call-to-action templates, and emotive words you can use in your copy to build a deep connection with your followers.
Self-paced course
Pay in full
$500 $400 AUD
OR
Easy installments every 2 weeks
3 x $170 $135 AUD
Live coaching program
Pay in full
$800 $700 AUD
OR
Easy installments every 2 weeks
3 x $270 $235 AUD
NEW: Join the VIP Live Coaching Program
You'll get everything in the self-paced course PLUS 3 x 1.5 hour group coaching calls with me so you can be supported as you move through the course materials.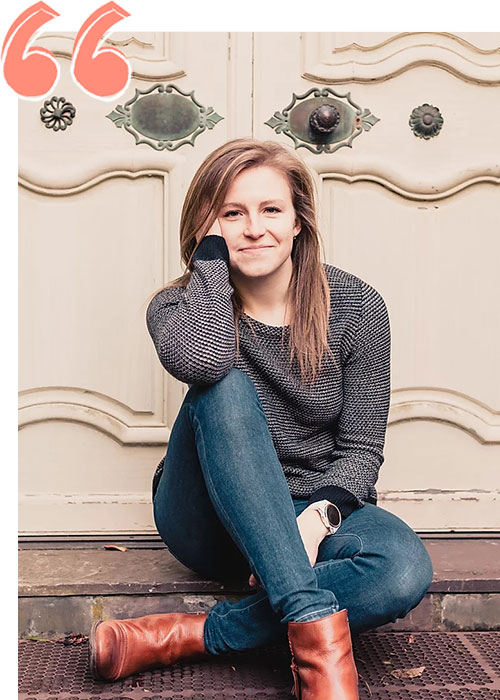 Testimonial -
"
Rachel's course helped me to understand what was working and not working on my social media platforms.
Before doing the course, I didn't know what a content marketing strategy actually was.
Now I have higher engagement on posts, and I'm putting everything I've learnt into my Instagram account and YouTube channel. I have recommended this course to others because it's jampacked full of value."
—Hannah Michelotti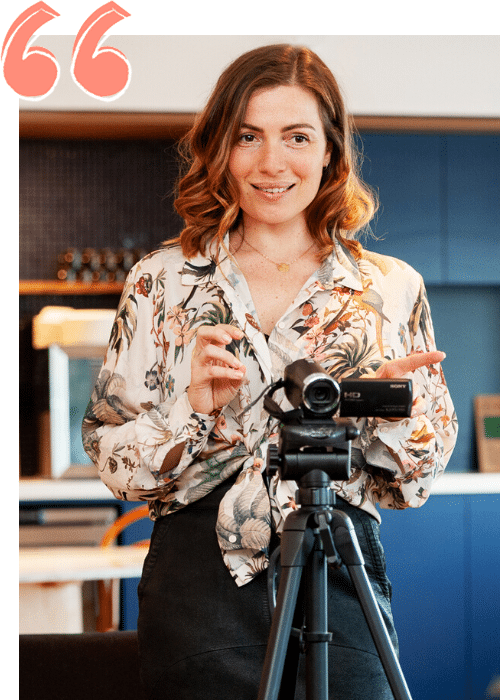 Testimonial -
"Create Content with Confidence has helped me to have more interactions with new and existing followers online.
Before I did the course, I was a slave to socials because I didn't know how to structure content or how to best schedule it.
Now I'm super clear about how to create content and what's involved to stop-the-scroll."
—Jacqui Maloney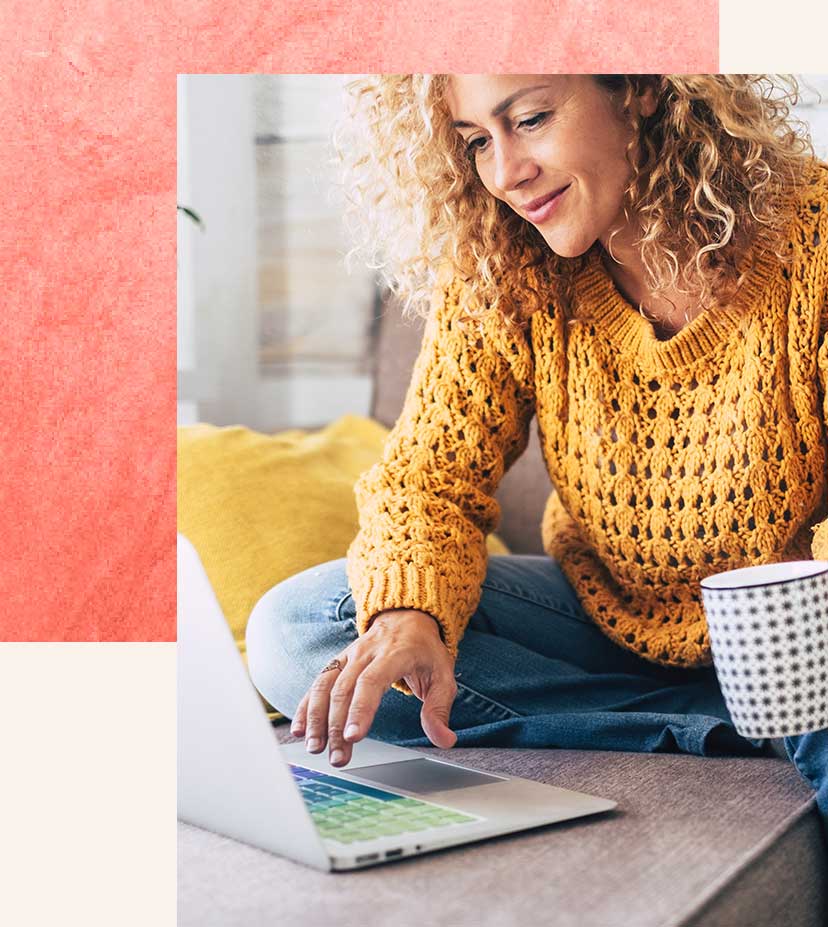 You share content on your blog, email list and Instagram regularly, but you aren't getting the views, opens and DMs you've been hoping for.
You don't ever show up live because you don't know what to say, are afraid no one will listen and aren't convinced you'll see results.
You don't have a clear and actionable content marketing plan, so you post sporadically and spend time on tasks that don't support your business growth.
You don't know how to share your expertise and talk about yourself in a way that results in your dream clients reaching out to work with you.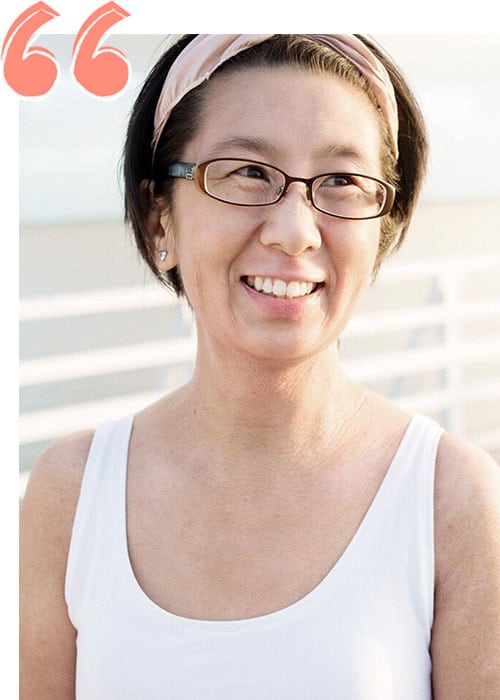 Testimonial -
"Before doing Create Content with Confidence, I didn't know the nitty-gritty of marketing surveys and the different types of content I needed to be creating.
The course helped me to methodically inspect my business from a personal and strategic level beyond just learning how to create content confidently. It's made me do the deep-thinking work, which is important for building solid foundations.
The best part of the course was the clear and concise bite-sized videos which meant I was inspired to get straight into the workbooks and apply the learnings."
—Sue Ko
The Create Content with Confidence lessons will help you…
To understand what misconceptions and bad marketing advice you shouldn't follow
Get clear on how your content marketing strategy will help you achieve your financial goals
Identify what your communication style is and embrace what feels natural to you
Craft your brand story and inject your personality into your copy
Understand what 'showing up' means and shape how your clients see you
Find out what content your dream clients want and the 7 types of content you need to be creating
Schedule 90-days' worth of content so you can spend your time building your community and turn followers into paying clients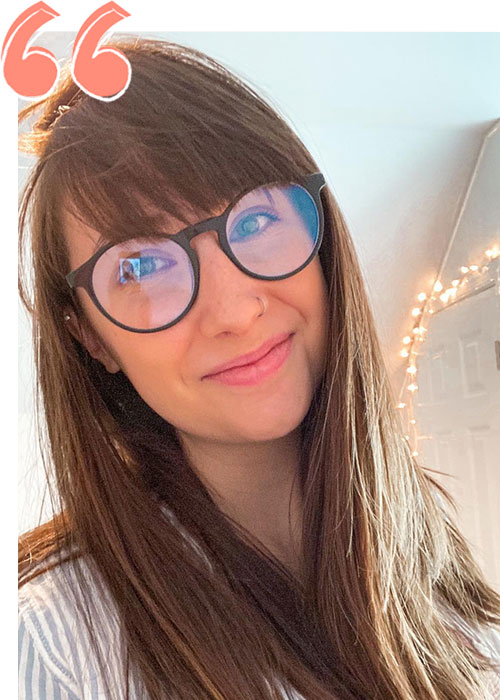 Testimonial -
"Create Content with Confidence gave me so much clarity around my content.
The best thing I learned was how to lay out my content marketing strategy perfectly.
The course helped me to figure out what to post, how to sell, and how to strategize content that works for me.
Since doing the course, I have done more Instagram stories, and I can figure out what content is working using Rachel's engagement percentage calculator."
—Emma Lunsford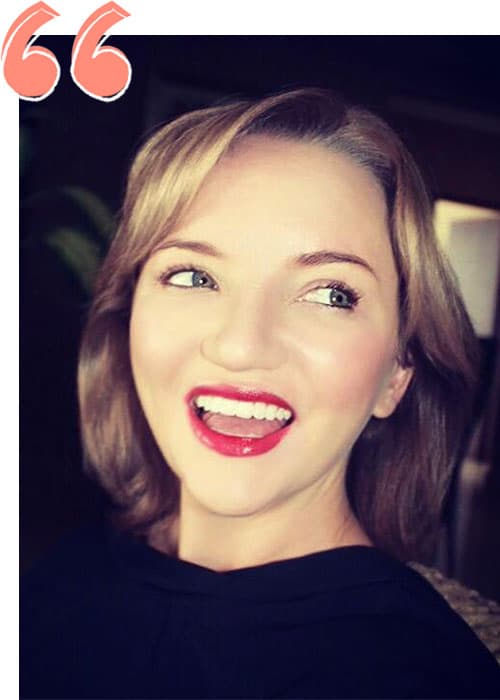 Testimonial -
"Rachel gave me such valuable advice on writing content. Her simple and easy to implement suggestions made a huge difference to my ads and my engagement on Facebook.
She has such an easy manner of communication and makes things I don't understand well very accessible."
— Rebecca Duffield
By the end of the program you'll . . .
Be showing up with confidence and clarity because you know exactly what you stand for and the experiences, insights and expertise you can offer your clients.
Be filling your client roster with dream clients because your clearly defined brand and key messages have supported your followers to take action.
Be writing your content in batches, scheduling it and then focusing on income-generating activities thanks to your 90-day content plan.
Feel positive, inspired and motivated about the content you're creating because your engagement, sales and business opportunities are increasing every week.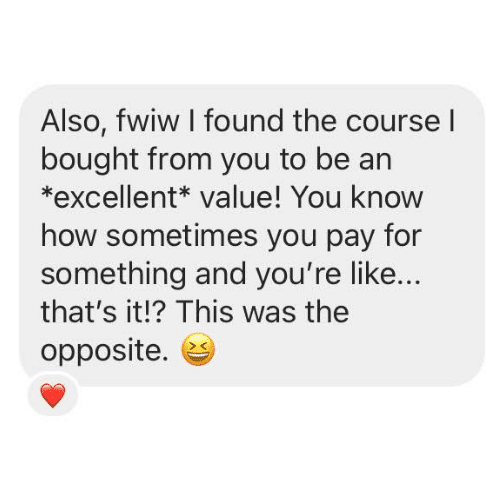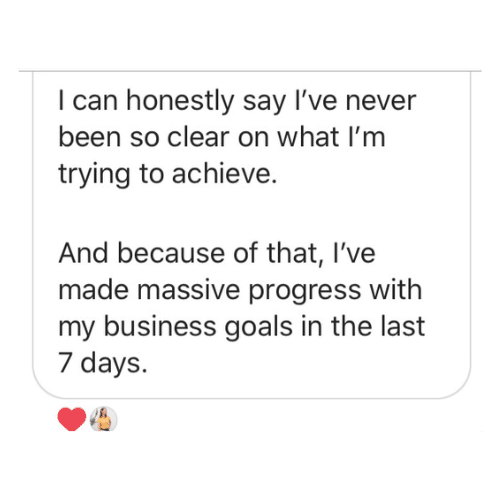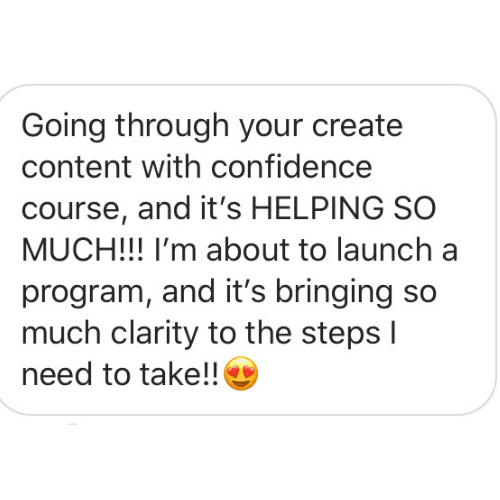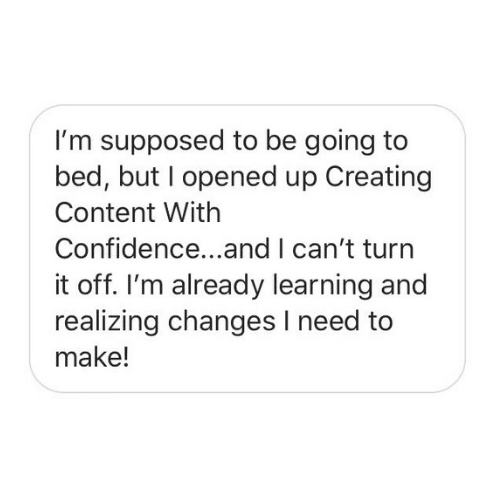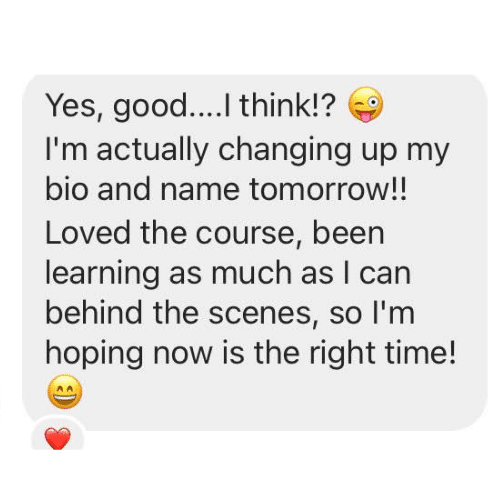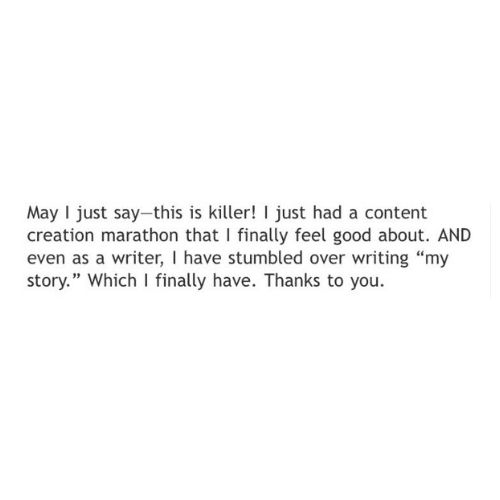 Are you ready to 
CREATE CONTENT

 that positions you as an 

expert

, has your

dream clients

 booking your services BUT still feels

authentic

to you?
Self-paced Course
Pay in full
$500 $400 AUD
OR
Easy installments every 2 weeks
3 x $170 $135 AUD
Live coaching program
Pay in full
$800 $700 AUD
OR
Easy installments every 2 weeks
3 x $270 $235 AUD
What do I get on sign up?
Once you're signed up, you'll get full access to the 6-week course (all video lessons, workbooks and templates) and the bonus content.
You'll also receive weekly emails that take you through the key lesson learnings and actions to support you as you move through the course.
When does the Live Coaching program start?
The VIP Live Group Coaching program starts on Monday August 30th, 2021.
What times are the calls for the Live Coaching program?
All Live Group Coaching Calls will be hosted on Zoom. You'll receive email reminders with the call details prior to the times listed below.
Call 1: 7th Sept 10 am AEST
Call 2: 21st Sept 7 pm AEST
Call 3: 5th Oct 10 am AEST
Convert these times to your local time here.
Will there be replays?
Yes, all Live Group Coaching Calls for the VIP program will be recorded and uploaded in the course portal.
If you can't make the call live, you can submit questions prior and I will answer them on the call for you.
How many hours can I expect to work on this each week?
Watching the video lessons and completing the action items will take you 2-3 hours per week.
A CCWC student said that this course will "work as hard as you work." And she's right. It's less about how much time you invest and more about the intent behind your work.
If you're committed to doing the foundational work shared in this course, you will see results.
What makes CCWC different to other content courses?
Unlike other programs and courses, I don't just give you the answers. My signature step-by-step process takes you through a series of questions that you need to answer for yourself and I support you to answer them through providing short and actionable video lessons that teach you the frameworks and ideas you need to apply. You can then take what you've just learned and put it into action by completing the workbooks and using case studies as starting points.
What you write down in the workbooks isn't wasted either. I'm a big believer in never doing anything twice. So at the end of the course, you take all your answers and put them together in a template I've provided and this becomes your 3-page content strategy.
The idea is that you can then refer to this strategy whenever you write content. It's a working document that helps you stay focused on income-generating activities and in control of your content marketing so you don't find yourself back on the content hamster wheel.
How long do I have access?
How does lifetime access sound? You will have unlimited access to this course + all updates for as long as you like - across all devices you own.
What if I am unhappy with the course?
I want you to be 100% happy with your purchase so I do provide a 7-day money-back guarantee on all my courses.
However, there is an expectation that you will have used your best efforts to actively participate and incorporate any strategies from the course.
So to qualify for a refund, you must send an email to rachel@rachelkurzyp.com.au within 7 days of purchase and provide completed coursework to support that you actively participated in the course as well as any other evidence to support the output of any course work and your active participation.
I will inform you within 14 days of receipt of your request whether a refund is applicable and where I have determined that a refund is due, I will organise prompt payment via my payment provider.